Elma Riza and Petra Gell, How to make a bee-line?
In-situ installation and video work
Fotos: Bárbara Palomino
The exhibition project in the showcase tests the artistic approach of two artists unfamiliar with each other: Elma Riza & Petra Gell. At first, they will approach each other from a distance, without physical proximity. But as soon as the national borders are opened, Elma Riza will start her philomena+ Residency in Vienna and personal contact will become possible again.
What both artists have in common is their desire to make the different layers of a place visible through artistic interaction, to expose historical events, but also to create new spaces that do not necessarily have a function, free and open spaces for encounters and experiments with visitors and curious passers-by.
By means of Performance and Instant Composition, the Franco-Tunisian artist Elma Riza explores the relationship between body and space, focusing in particular on the tension between the visible and the invisible, the real and the imaginary. Like Elma Riza, the Viennese artist Petra Gell also creates spatial guidelines. In Elma Riza's work it is often the movement of her own performing body that she marks with wool thread or tape. Petra Gell, on the other hand, draws lines that define relations between things and new spaces, using pencil, brush, monochrome and painted surfaces, as well as found materials. An eminent oscillation between two- and three-dimensionality lies in the resulting interventions, which in turn creates spatial illusion.
THE SPACE AROUND – PETRA GELL
Art & Open House @ the Golans
Klosterneuburg
"Petra Gell erschafft Raum. Petra Gell erschafft Räume. Mit ihren Bildern vergrößert sie den Raum, der zur Verfügung steht und bringt damit eine neue Perspektive, ein neues Lebensgefühl in die eigenen vier Wände. Petra Gell kreiert einen eigenen weiteren Raum im Raum, der einlädt etwas Neues zu entdecken. Denn wir alle brauchen Raum: Raum für sich selbst, Raum für seine Gedanken, Raum zum Wachsen." Natascha Golan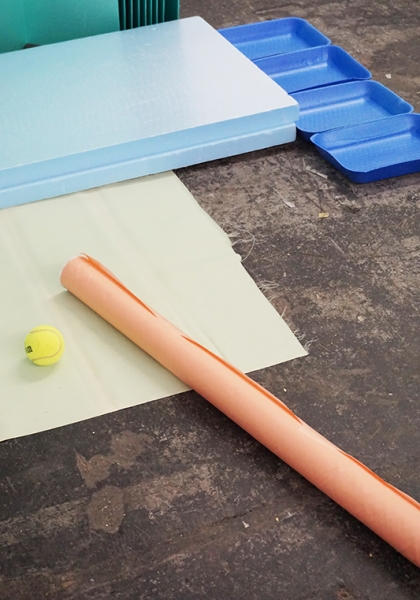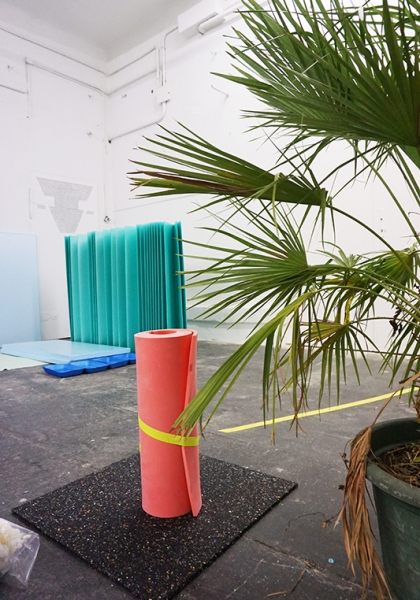 VIENNA ART WEEK, open studio days 2019
"The future of the woman will be her history"
Ursula Buchard & Petra Gell
curated by Meta Marina Beeck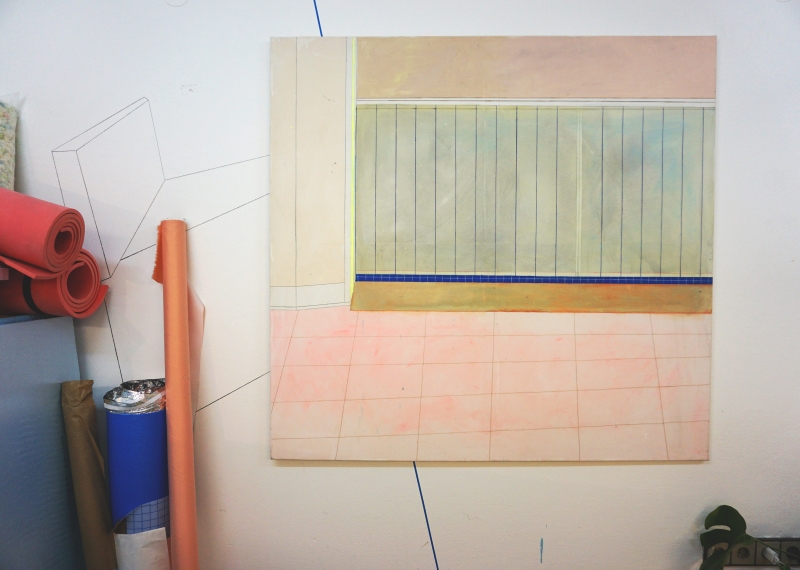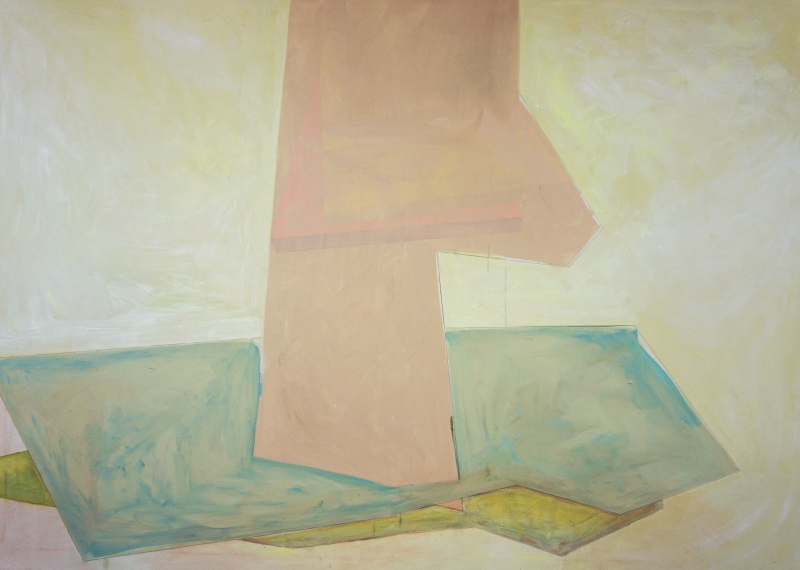 'into the blue', acrylic on canvas, 2019
'smoothness', installation 2019
Petra Gell setzt sich in ihren Arbeiten mit Fragen von Raum, Stadt und Architektur auseinander. Ausgangspunkt ist oftmals die Erfahrung und Wahrnehmung spezifischer Orte und urbaner Konstellationen.
Seit dem "Spatial Turn" oder der so genannten "topologischen Wende" wird Raum nicht mehr als kartesianische Kiste begriffen, sondern als sozio-kulturelle Größe, als Möglichkeitsfeld, das durch unsere Wahrnehmungen und Handlungen gestaltet wird.
In Gells Werken zeigt sich eine Wahrnehmung von Architektur und Räumen als Linien, Flächen und Farben.
Roman Grabner, Universalmuseum Joanneum
SOMETHING CHANGES BECAUSE, public art, summerstage, open Art 2019, installation
Spaces of sport – spaces of life
Alles muss in Bewegung bleiben!
Trage Sportschuhe damit du schnell sein kannst. Dann wird dir ein Platz zugewiesen und du kannst dich temporär verorten. For you – vor Ort. Fresh and light
Hat noch nie was – and still again.
Mit der Anordnung, der Komposition der Materialkombination wird die Nutzbarkeit und Funktionalität der Materialien hinterfragt, die mit ihrer Oberflächenbeschaffenheit, der Textur eine spielerische Leichtigkeit in Anlehnung an Architektur und Sport transportiert.
In meiner Arbeitsweise geht es um ein Verwischen der Grenzen zwischen dem skulpturalen oder architektonischen Objekt und dem künstlerischen Prozess.
Eine sehr geometrisch abstrakte Malerei im Raum.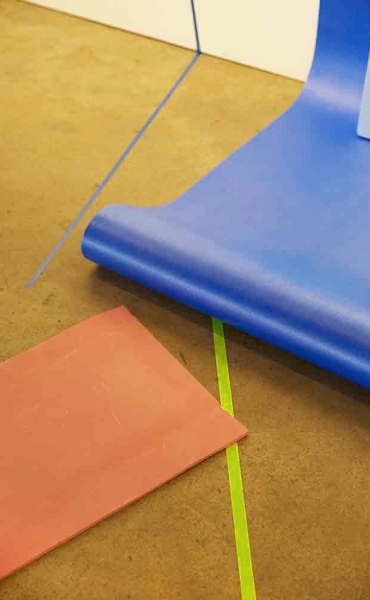 in between structures, 'shifts' Künstlerhaus Vienna, May 2019
In der Gruppenausstellung in between structures präsentieren Kirsten Borchert (DE), Petra Gell (AT) und Borbala Szanto (HU) raumgreifende Installationen in der temporären Architektur des Künstlerhauses, der Passagegalerie. Ihre abstrakten Kompositionen erarbeiten die Künstlerinnen in situ im Verhältnis zu der sie umgebenden Architektur. Sie hinterfragen die Wiedererkennungssysteme unseres alltäglichen Sehens, indem sie sich stets in einer Zone von Unbestimmtheit bewegen. Die Ausstellungsbesucher sind dazu eingeladen, die Arbeiten fotografisch festzuhalten und mittels hashtags (#inbetweenstructures) im digitalen Raum zu verorten.
in between structures, Doris Richter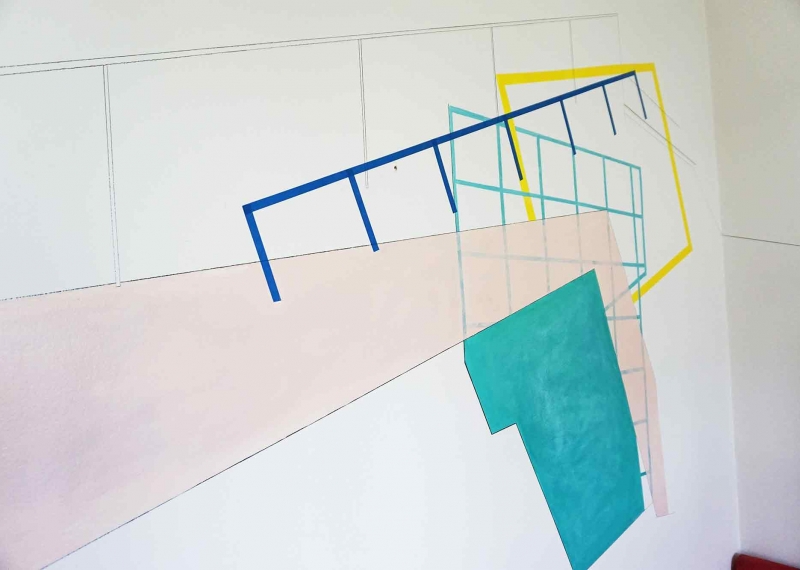 time after time, private wall painting, installation, June 2019
"DIE WAND, das BILD, das GEMÄLDE. Es hat unser Wohnzimmer verändert, klarer gemacht, geordnet. Es lässt sich trotz der Klarheit immer wieder Neues entdecken! Nach fast 5 Monaten mit dem Wandgemälde überrascht es uns noch immer. Es ist noch nicht Gewohnheit. Wollen uns nicht gewöhnen, wollen immer währende Überraschung. Wie das Leben eben so ist." Andrea Drössler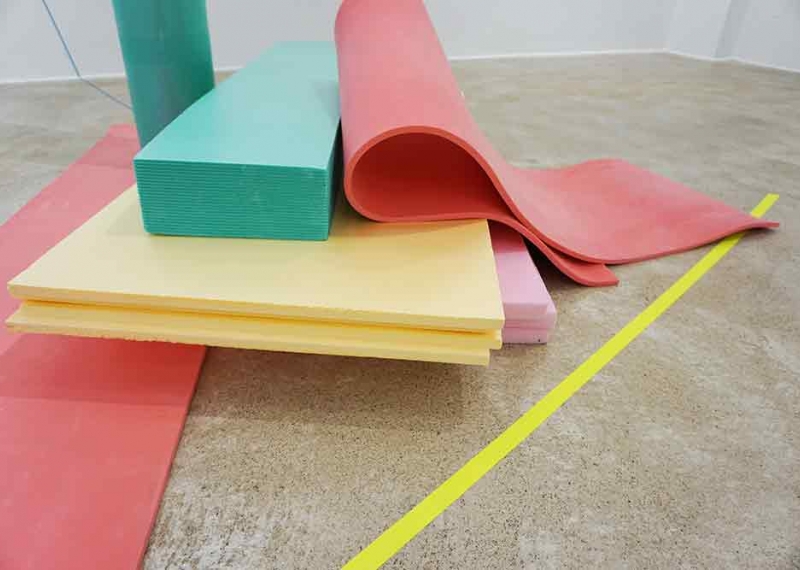 A place to be, TRI, Gallery Loft8
Petra Gell reduziert ihre Formensprache auf das Wesentliche. Mit wenigen Linien strukturiert sie Räume. Seit Jahren fasziniert sie Architektur und deren Auswirkung auf die Wahrnehmung des Raumes. Sie arbeitet auf Karton und verstärkt durch die Materialwahl den Eindruck der architektonischen Skizze.
TRI, von Roman Grabner 2018, Ausstellung in der Galerie Loft8, 2019
Series 'Pêche de Vigne', mixed media on paper, 70x100, 2018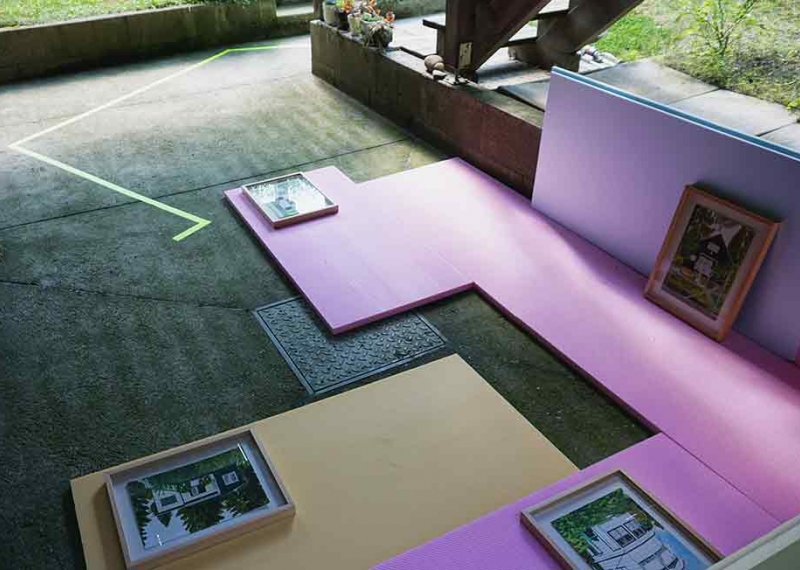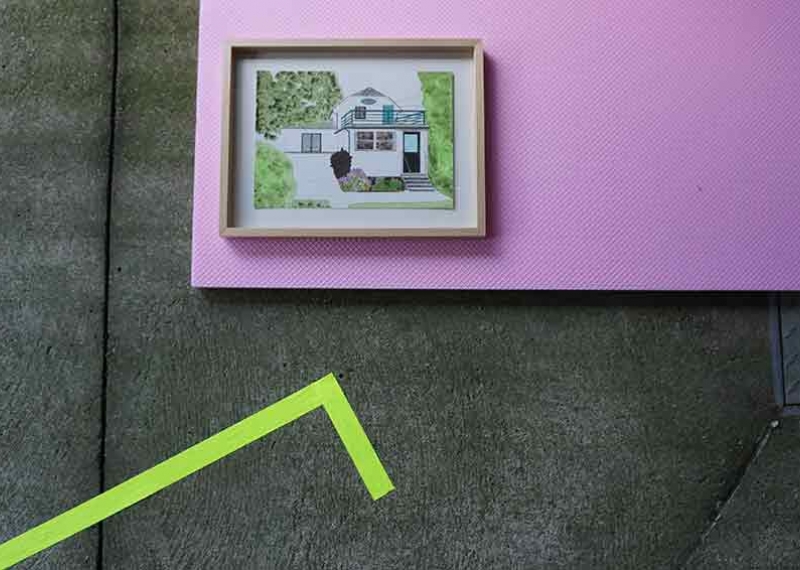 'Reflecting Space with houseportrait', installation, KRIDO OPEN 2018
'new line', mixed media on paper, 70x100, 2018
'on the field', acryl on wood, 70x100, 2018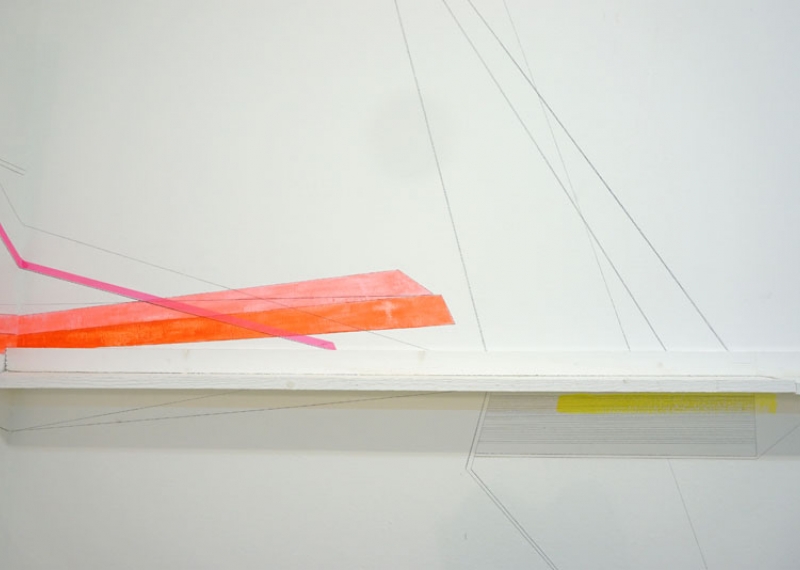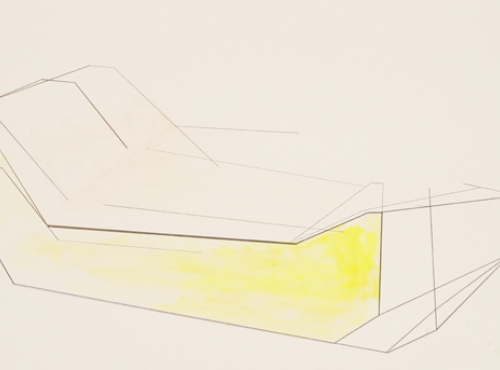 Serie 'Running along the objects', 50x70, acrylic on wood, 2017
Serie "Minigolf",50x70, acrylic on wood, 2017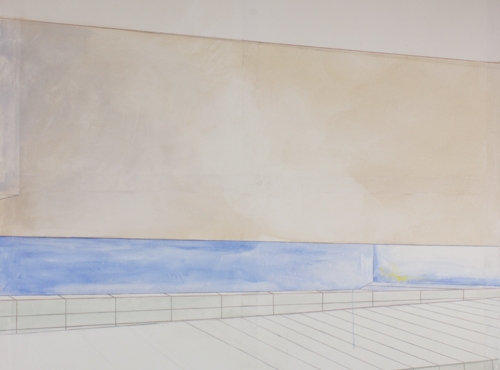 Serie "Nowhere", 120x125, acrylic on canvas, 2017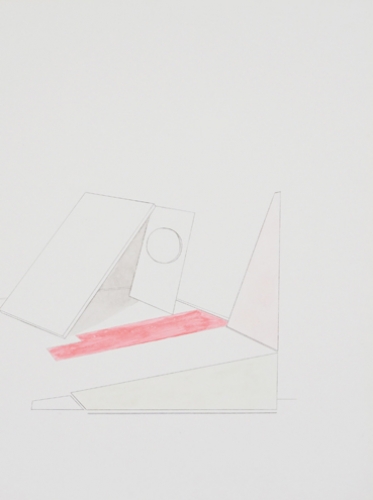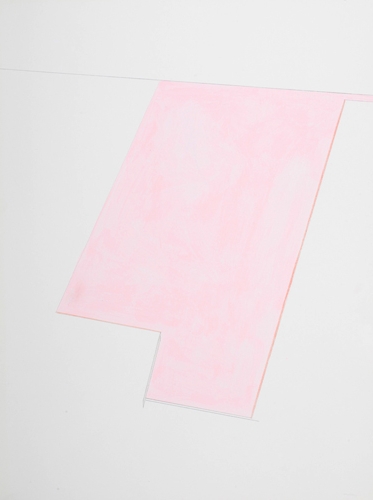 Serie "Nothing but time", 35x25, acrylic on wood, 2017
Serie "Brilliant", 30x40, mixed media on wood, 2016
Serie "Ready for Whatever", 20x30, mixed media on paper, 2015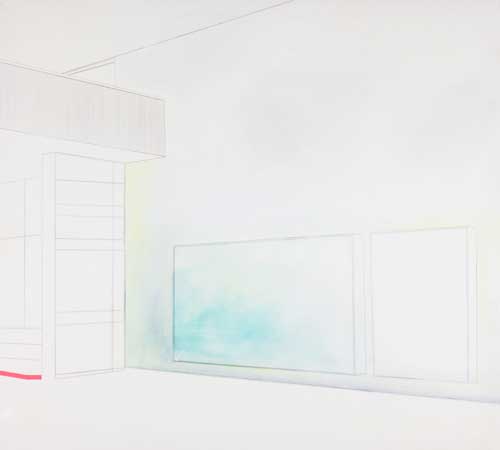 Serie "Let´s Take Another Road", acrylic on canvas, 120x125, 2014
Serie "Luftblasen im Winterpalast", acrylic on canvas, 120x125, 2014
Serie "Point of View", mixed media on paper, 20x30, 2012
Serie "Krizes les bains", acrylic on paper, 20x30, 2009